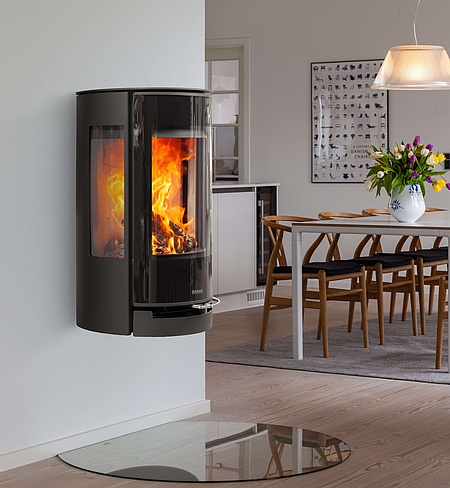 Aduro 22.4 Lux - Available in 2024
The wall-mounted Aduro 22.4 Lux is an elegant, floating wood burning stove. Characteristic for this stove is the large black glass door and the integrated handles, which give the stove an exclusively look. Furthermore, the side glasses accentuate the flames in the most attractive way and secure a 180-degree view of the fire... Read more
Interested in buying?
Buy your wood burning stove from one of our dealers. Follow the link to find the dealer list.
Description

Technical

Related products
The wall-mounted Aduro 22.4 Lux is an elegant, floating wood burning stove. Characteristic for this stove is the large black glass door and the integrated handles, which give the stove an exclusively look. Furthermore, the side glasses accentuate the flames in the most attractive way and secure a 180-degree view of the fire.
External air supply
Aduro 22.4 Lux comes with external air supply, in which the air for the combustion is supplied from outside and directly into the wood burning stove. You hide the air intake itself by installing it behind or underneath the stove. The obvious choice if you live in a very airtight house.
See our smart kit for mounting the fresh air here.