Winner of the European Business Award for the Environment 2018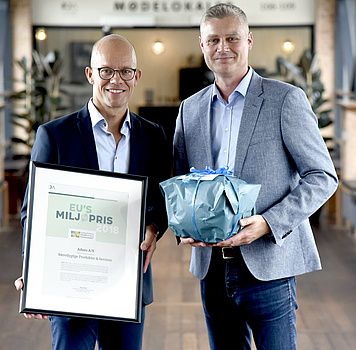 The Danish company Aduro A/S was awarded with the prestigious European Business Award for the Environment on a national level in the category "Sustainable products and services". The award was given for the innovative and sustainable product Aduro Hybrid.
CEO of Aduro, Christian Skovbo, is pleased and honoured to receive the award: "It is a huge recognition to win this award. We have been working intensely on creating a product that on the one hand eliminates the disadvantages of a wood burning stove and on the other hand fulfil the customer's wishes and needs to a wood burning stoves."
Wood and pellet finally together as one
The result was Aduro Hybrid, a stove that combines environmentally-friendly heating from pellets with the warm and cosy atmosphere from real logs. Aduro Hybrid reduces the emissions significantly compared to conventional wood burning stoves: With the pellet function, the CO emission is reduced by 97%, the OGC emission by 91%, and the dust emission by 59%.
Furthermore, the hybrid stove is controlled through an app which allows you to turn on the stove although you are not at home, it allows you to regulate the temperature and to keep track on the combustion. In this way, the app helps you secure an optimum combustion and to maintain the environmental characteristics of the stove.
A unique trio
The creation of Aduro Hybrid required a new and different kind of technology. This resulted in a collaboration between Aduro, the Danish designer Casper Storm, and the Danish company NBE, one of Europe's leading pellet stove manufacturers with more than 60.000 running stoves. Aduro contributed with knowledge about environmentally-friendly wood burning stoves, NBE contributed with knowledge about pellet stoves, whereas the designer Casper Storm secured the signature of the Scandinavian design.
"With the development of Aduro Hybrid, we have taken the innovation process to a whole new level. It is innovation on top of innovation and now we are in for a ride", says Christian Skovbo.
The hybrid stove is already an international success and with 55 million chimneys all over Europe, Aduro expects an increasing demand.
An environmental champion
European Business Awards for the Environment pay tribute to the most environmentally conscious companies in Europe, thus aiming to promote innovative and sustainable initiatives. The awards are given every two years and are divided into four different categories: "environmental management", "sustainable products and services", "sustainable processes" and "international business cooperation".